Is your spill kit up to the task?
As a UST owner/operator, you are required by law to:
"contain and immediately clean up a spill or overfill . . . that results in a release to the environment that exceeds 25 gallons" (40 CFR 280.53).
But you can't clean up a 25 gallon release with a 5 gallon or 10 gallon spill kit! So what's the solution?
The PASS 30 Gallon Hydrocarbon Spill Kit meets all the compliance needs of retail, non-retail, and marina facilities. This kit is designed to contain and clean spills or releases of hydrocarbon-based chemicals, such as gasoline and diesel.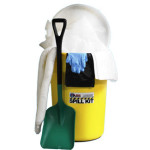 Technical InformationDrum size - 21.125"x28.5"  •  DOT approved X-rated 30 gallon Over Pack - DOT 49 CFR 173.12(b)  •  Works as packing groups l, ll & lll of hazardous materials. • UN Rating HM-181 1H2/X120/S and HM-181 1H2/Y180/S  •  Absorbs 25 Gallons (amount absorbed is approximate - varies due to fluid type)Compliance Information29 CFR 1910.120(j)(1)  •  29 CFR 910.1450(e)  •  33 CFR 154.1047(c)(2)  •  49 CFR 173.3(c)(1)  •  40 CFR 263.30(a)  •  40 CFR 112.7(c)(1)  •  40 CFR 280.53
If you are interested in ordering a PASS 30 Gallon Hydrocarbon Spill Kit contact us today.